Why should you regularly Update Product Feeds?
Posted on November 10, 2019 (Last Updated: August 18, 2021)
When it comes to marketing your product listings on different sales channels, keeping your feeds updated frequently with the latest info can help to boost your campaign performance.
This is especially true when it comes to busy eCommerce seasons like Black Friday and Cyber Monday.
Here, having the most up-to-date stock levels and latest sales prices will help to improve your ROI. In this post we're finding out why.
As an eCommerce businesses, you will always be after more efficient ways to increase sales through your online campaigns on channels like Google Shopping, Facebook and Amazon.
If you're manually managing product feeds to all these channels....
...multiple daily updates of the product listings in advertising channels can seem like a time consuming task for any e-retailer.
The time needed for manually updating feeds could be better spent on refining your campaigns, taking insight from your analytics, or optimizing your feeds.
Particularly when it's the approach to Black Friday and you are running intensive daily campaigns, trying to remain competitive, and on the lookout for a way to stay ahead of competitiors, you might just benefit from a bit of automation.
Why would you want to update your online shopping feeds multiple times per day?
You do some competitor price monitoring and find that your prices need to be frequently adjusted to keep up with the online shopping deals they are running.
A bit like we did for some clients earlier this year 👇
Related: What is a product feed? or What is product feed management?
Or perhaps you've sold out some of your stock and you will want to update your feed to reflect your latest stock levels.
It hardly needs stating that advertising products that are out of stock means your ad spend is completely wasted.
You're paying for every click, and if your customer clicks on a product that you no longer have in stock, it creates a bad customer experience and will negatively affect your campaign performance.

You may have added new stock to your inventory during that day.

As Black Friday and Cyber Monday sales approach, the chances are that your business might be offering hourly special offers to your customers and having frequent daily feed update capabilities allows you to manage this process more effectively (see video below of setting up a schedule in our platform).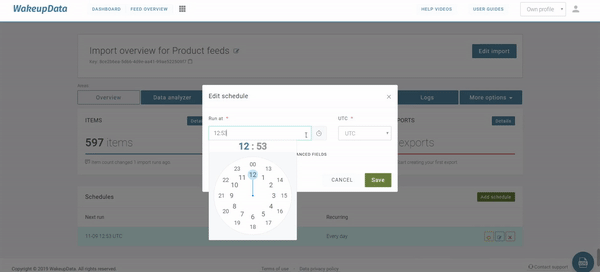 The benefits of multiple daily feed updates:
Being able to adjust your prices based on competitors
Adding promotions to certain products
Adjusting your stock levels
These all give you more control over your shopping campaigns, which can improve your ROI and streamline your ad spend.
As a result, you end up having more targeted campaigns based on price, quantity of stock, and any special offers you may want to run throughout the days or weeks of events like Black Friday or the Holiday Sales.
Maintaining updated data will also help prevent channels from disapproving your products and ultimately gives you higher transactions.
When do Feed Marketing Tools come in handy?
You might have already seen where I'm going with this, but it makes sense to have a tool to-hand which can automatically update all your feeds whenever you need - multiple times per day.
Besides, the drain on your time and resources with the task of manually updating and optimizing your feeds throughout the day is unnecessary and really should be avoided if you can help it!
If you are looking for better productivity from your team, it's time you seriously looked at an effective and affordable data feed marketing tool - check out our comparison of available feed marketing tool options here.
Want further insights into Product Feed Optimization techniques for your ecommerce campaigns? Check out our free guide below: